St Helena Farmers Market: NY to NV | Lifestyles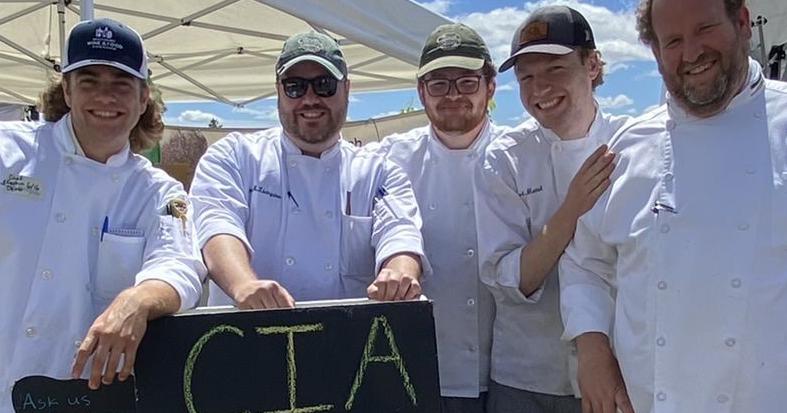 Ann Costelloe

At St. Helena Farmers' Market, we are so fortunate to have the Culinary Institute of America at Greystone as our partner in so many things, and one of the greatest benefits is being introduced to students enrolled at their Farm every year. to Table program. Led by Chef Daniel Kedan (thank you, Chef Daniel, for your amazing demonstration last week), the program offers "a truly unique opportunity for the future culinary world to learn where our food comes from," he tells me, " and what better place to do it but in Northern California.
Each year, students from the CIA's Hyde Park campus in New York's Hudson Valley come to St. Helena for this three-month bachelor's degree concentration.
"It really opened my eyes," says Evan, a student from Bergen County, New Jersey, who is shocked by "how much of our food is not organic" and the high concentration of GMOs in it. most crops of corn, soybeans, rice and cotton. A first stay in California, he falls in love with the region and wonders if he should stay.
Jared, from Omaha, Nebraska, says, "It's so important to know where the food comes from." It's something the group learned from industry leaders who speak to students every week, tours of different wineries, and trips to well-known Farm to Table restaurants and farms like Single Thread. Clearly enjoying his stay, he tells me he's "living the best life of his life – I'm staying."
Connor, a student from South Jersey, says St Helena reminds him of his home "take away the vineyards and the mountains". But the difference is that "you can grow anything here". This is echoed by student Reed from San Francisco, a business student majoring in the culinary arts, who says "the Hudson Valley is a growing region, but nothing like it here."
Marco from Sunnyvale knows this and says, "It's good to be back. Passionate about food and community, he developed an interest in sustainable and regenerative agriculture.
So visit the CIA tent on the first and third Fridays (next July 1), meet them all and above all taste the culinary delights they have learned to prepare from the freshest local produce. We'll see each other there!
Also this week, continue to learn about "Plants and Their Parts" in our Market Classroom at 9:00 a.m. and join our Chef Demonstration at 10:30 a.m. presented by Carolyn Delfino, Engagement Manager, Upper Napa Valley Blue Zones.
We hope to see you every Friday through October 28 from 7:30 p.m. to noon in beautiful Crane Park. Stay informed with our newsletter, Instagram, Facebook or Nextdoor St. Helena.
These steak tacos are perfect for a small Memorial Day gathering. If you want a heartier meal, make a casserole of refried beans and serve them on the side. To drink? Your favorite cold Mexican beer.
Portobello mushroom caps are very satisfying and full of flavor, and the mix of colors and textures will keep you coming back for more. This vegan sandwich ticks all the boxes – and more!
Light the grills; Memorial Day weekend is fast approaching. We gather outside to sear steaks and toast the arrival of summer.
Consider broccoli slaw as an alternative to coleslaw and enjoy it with the same foods: grilled meat, fried chicken, and sandwiches.
Coat the chicken with spices common to Cajun cooking, such as dried thyme and cayenne pepper. Then, instead of using the traditional method of searing in a cast iron skillet, we char it on the grill.
Ann Costelloe is a board member of the St. Helena Farmers' Market.