Outdoor Holiday Market and Promenade New to Holiday Festival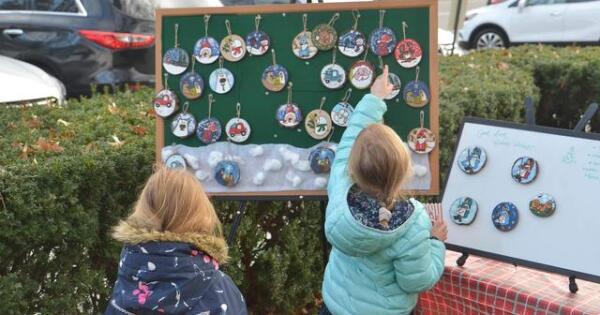 Posted: Dec 19, 2018 2021 08:00
The Holiday Festival, hosted by Newtown Youth & Family Services, introduced a new event this year: the Outdoor Holiday Market & Stroll on Sunday December 5th.
The sidewalk along Main Street, from Edmond Town Hall to the CH Booth Library, was dotted with various vendors selling everything from candles and jewelry to ornaments.
Shoppers of all ages visited the booths to shop for handmade products this holiday season. There were also food vendors and the Fairfield Gaelic Pipe Band performed.
Santa Claus was also on site, next to the red wagon in front of Edmond town hall, for photos and pre-Christmas conversations.
Journalist Alissa Silber can be reached at alissa@thebee.com.
Two young shoppers choose their favorite ornaments at a vendor's stand during the Holiday Festival's open-air market and walk on Sunday, December 5. —Bee Photos, Silber
Three generations of Hilse women ran a stall – selling handmade ornaments, wreaths, art ribbons, and more. her mother, former Sandy Hook resident Renita Hilse.
Several vendors have set up tents outside Edmond Town Hall to display their handicrafts for sale at the Holiday Festival's outdoor market and promenade on December 5.
Amenzie Brown, left, and her cousin Hillary Brown, both from Stamford, run the Ame Candle Co table outside Edmond Town Hall selling candles and soy pies at the Outdoor Holiday Market & Stroll on December 5.
Traders set up tents on the main street for the new holiday festival event, the outdoor holiday market and promenade on December 5.