Lepionka walks away from Backyard Growers | News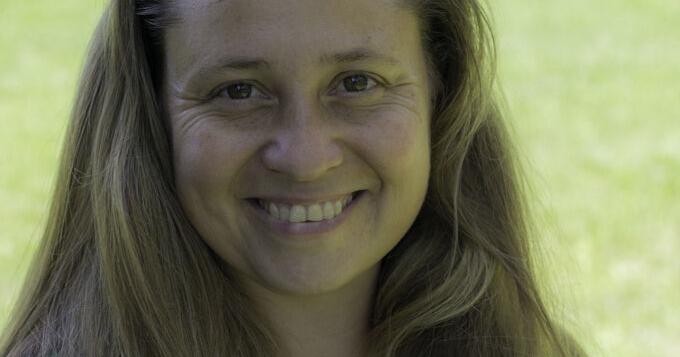 Here in Gloucester, Lara Lepionka is known as the dynamo who founded Backyard Growers in her backyard in 2010. But before that, she was an artist. A very talented artist with a very impressive resume in non-profit community public art.
So after a dozen years of turning Gloucester backyards, parks, schoolyards and patios into edible gardens and seeding Backyard Growers programs in other New England communities, Lepionka returns to her artistic roots. Leaving her position as Executive Director of Backyard Growers, she is "re-rooting" and moving to Malta in May, where she will spend the month as artist-in-residence, working on a food-based public art project.
"I almost feel like (Backyard Growers) is like a kid who's ready to go out on their own," says Lepionka, who herself sent one of her daughters to college this year. She also turned 50, a time in her 40s when people often take stock.
Taking stock, Lepionka said that after 12 years at the helm of Backyard Growers "I had achieved what I wanted to accomplish. To create something that didn't exist before! It's been a massive learning and growing experience (and) I feel really good about the state we're in. I think that's amazing for a small grassroots organization like ours. We have developed relationships with all kinds of people and partners.
Recently moved into spacious new premises at 103 Maplewood Ave., Backyard Growers is, Lepionka says, "financially strong." But please don't, she adds, don't let that stop people from giving.
Although in its early days as a non-profit start-up it was largely supported by grants, Backyard Growers has continued to garner tremendous community support, build a large base of generous volunteers and donors, launch calls and develop sponsorship.
"I'm so grateful," says Lepionka, "for the support from the community."
Today, with more than 400 edible gardens, Backyard Growers began to sprout when the 2008 financial crisis prompted Lepionka – then an active volunteer at the Cape Ann Farmers Market – to grow her own vegetables as a cost-cutting measure. Two years later, she taught a few neighbors how to garden and Backyard Growers was born. "It really grew out of the farmers' market," says Lepionka. then, under his leadership, Backyard Growers grew and grew, along with entire crops of produce, a small army of volunteers, a professional staff, and an active Board of Directors.
New team
A large part of Backyard Growers' mission is still with fixed income and low income residents of Gloucester. Among too many programs to mention, he worked with a whole generation of school children in the city, teaching them how to grow their own produce in their schoolyards. This and other programs "won't miss a beat" with the transition to new leadership because, says Lepionka, no one knows more about growing food for the people than his successor, Alison Woitunski Difiore.
"Alison and I were a long time ago and I chose her as my successor. She really understands food systems and food justice and has incredible experience, so I couldn't be happier in terms of the transition."
Describing herself as a "sustainable and strategic business expert with over a decade of experience in food systems and small-scale agriculture", Difiore says she "believes in the power of healthy food systems as an enabler to change the world". Gloucester resident Difiore steps into her role as new executive director from April 25, following Lepionka's departure on Earth Day, April 22.
Difiore will join a team that over the years has included development directors Aria McElhenny and Melanie Murray Brown, who will soon be replaced by Edith Gregory, who will fill the role on Monday, February 14. It is a solid and well organized group. "It's my work family," says Lepionka. "It's all of the amazing service members, volunteers, staff and board members, community partners and funders who have made Backyard Growers what it is today. Backyard Growers is owned by the people.
Lepionka says everyone she's spoken to so far is "happy for me in my new venture." Her too. In Malta, she will work on the island of Gozo to integrate local dietary habits and Maltese social issues and connect with Maltese farmers, to learn more about their native soil and cultures.
It may be a long way from Gloucester, but it's Lepionka territory. and who knows what this will lead to? She is a lady who blooms where she is planted.