International Night Market to Showcase Diversity of Immigrant-Owned Restaurants | Characteristics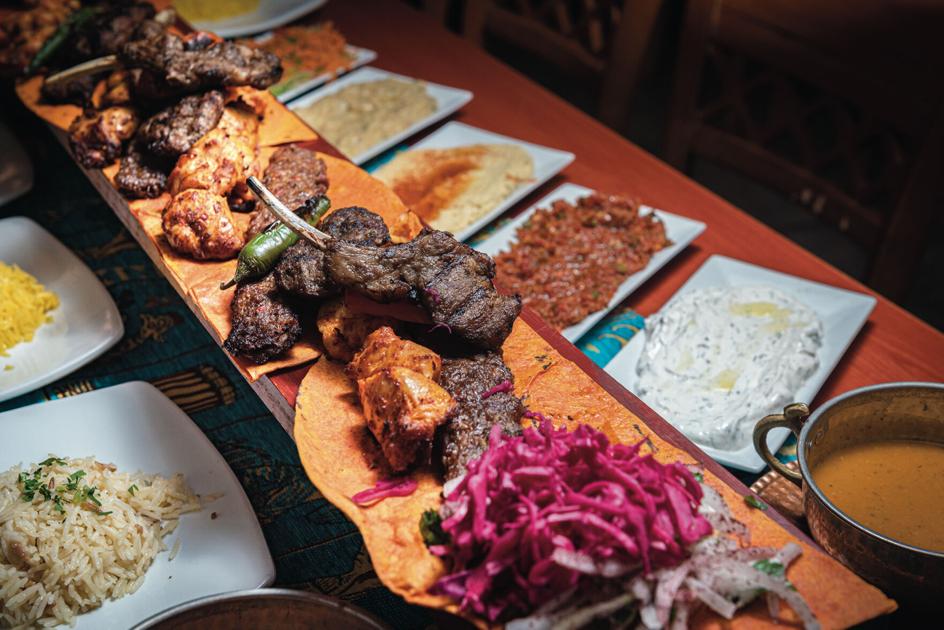 Chef Lamar Alvarez of Chez Lama, a food truck and restaurant service serving Alvarez's Haitian cuisine, opened in 2010. But his business has not been operating since the March 2020 pandemic. catering has dried up and uncertainty has clouded its future.
"My wife was pregnant," says Alvarez. "It's like, what do we do?" The best thing to do was not to expose myself so that I wouldn't bring him anything at home. I tried to do a bit of restoration work here and there, but it wasn't enough to really keep going.
Now, a year and a half later, he's preparing to relaunch the business for the InterNASHional Night Market hosted by the Tennessee Immigrant and Refugee Rights Coalition on September 24. This is at least the second time that the folks at TIRRC have provided a springboard for Alvarez. The first happened just after the chef started his business from his garage.
"When I started catering in 2010, the TIRCC was one of the first clients," he says. "It was my biggest job. It was the first time I was introduced to them, and we've kind of been associated with it ever since. They have really supported my business and they have been a blessing to me.
In addition to helping promote awareness of immigrant and refugee-owned businesses, TIRRC advocates for immigrant rights through coalition building and advocacy. This week's biggest non-profit fundraiser of the year will feature Chez Lama along with more than 15 other food entrepreneurs – from hidden gems to well-established favorites, including restaurant Edessa's Kurdish and Turkish cuisine, the dishes Puerto Ricans from the Merengue Cafe. and East African foods from Madina Restaurant.
Just as Alvarez's business evolved, TIRRC's InterNASHional food series evolved. While it started as a food tour to introduce businesses eight years ago, it has grown into an event attracting over 1,000 attendees, with guests having the option of taking a guided or self-guided tour. Various leaflets have also been added to highlight desserts or spicy dishes, for example.
After COVID arrived, organizers wanted to continue connecting chefs with the community and supporting entrepreneurs' storytelling through food, especially as they faced the challenges posed by the pandemic. So last year, InterNASHional offered online cooking classes and a takeaway dumpling sampler, for example. And while this year won't see a complete return to the boarding of over a thousand people on buses and restaurants, there will again be some carefully redesigned in-person events.
"This year, we felt more comfortable bringing people together outdoors in socially remote contexts," said Elizabeth Welliver Hengen, TIRRC's community relations manager. "Also, how can we use our head office as a way to bring people together? "
TIRRC welcomed friends to its new building in Antioch for the first time in August at an event called the Welcome Home Party. The organization had special COVID security protocols in place, much like the Night Market, an entirely outdoor event. This is another way to showcase the new headquarters while offering a range of restaurants from a larger geographic area without the constraints of a bus line. Basically, TIRRC's foodie events aim to showcase the diversity of cultures in Nashville.
As Hengen explains, the families who own these businesses are families that TIRRC has relationships with through English classes or other programs. "So many times, restaurants are where our communities come together," she says. In their schools, you might find a young student finishing his homework at the table while his parents are working.
"Food connects us, and it's a cultural currency – a way to showcase creativity and food," Hengen says. Alvarez agrees. He came to the United States from Haiti at the age of 13, and while studying landscaping at Florida A&M and working in the field for a while, it was the food that captivated his interest as a means of showcasing its culture, which in recent years could have been eclipsed by tragedy.
"Usually people like to talk about the type of food they eat, no matter where they come from," says Alvarez. "They'll say, 'Oh yeah, I like this and that,' and that opens the door for conversation. It's a way I like to talk to people about Haitian culture. I'm going to tell them about the griyo, which is fried pork, and fried plantains and something we call pikliz, which looks like coleslaw or chow chow but spicy and made with vinegar.
From TIRRC's perspective, these food-based relationships also help strengthen their other work. "If you get to know a chief and know their history," Hengen says, "and if there is a policy that affects immigrants in your community, you have a face and a taste associated with it. It is no longer abstract. You have received hospitality.
In addition to the InterNASHional Night Market, TIRRC also planned to host A Feast With Louisa Shafia: Private Dinner on October 24, but decided to cancel the dinner inside due to COVID-related concerns. Shafia, author of the award-winning cookbook New Persian cuisine, plans to offer different types of events in the future.
Shafia says her relationship with TIRRC began at a "truly horrific moment in American history".
"It was 2017, and the Muslim ban crisis had started," Shafia said. "My father is from Iran. I was upset because it directly affected my extended family, both Iranians and those living in the United States.
She wanted to do something that would contribute to the immigration dialogue in a positive way, so she called the main number of TIRRC and said that she wanted to have a Persian dinner to raise money for their work. Shafia had heard about TIRRC a few months before while volunteering for another non-profit organization at the National Conference on Immigrant Integration, which TIRRC co-hosted.
"I started crying on the phone when I tried to explain to the staff member who I was and what I wanted to do," Shafia says.
Shafia ended up planning a Persian New Years dinner at the famous Butcher & Bee in East Nashville. Tickets sold out quickly.
"It was a moving evening, with speeches from people who had been helped by TIRRC," says Shafia. "The dinner was a fun evening for people to learn about TIRRC, and it brought a lot of new support. "
The evening also featured dinners featuring other immigrant cooks across the city.
"Unless you work in an industry that relies heavily on immigrant labor, like hospitality or agriculture, immigrants in Nashville may be invisible," Shafia explains. "But they're here in substantial numbers and hitting way above their weight in these industries. … And I can't think of a better way to get people to invest in the welfare of immigrants than to have them meet around a nice feast of the food of this particular culture.