Cumbrian farmers producing carbon neutral beef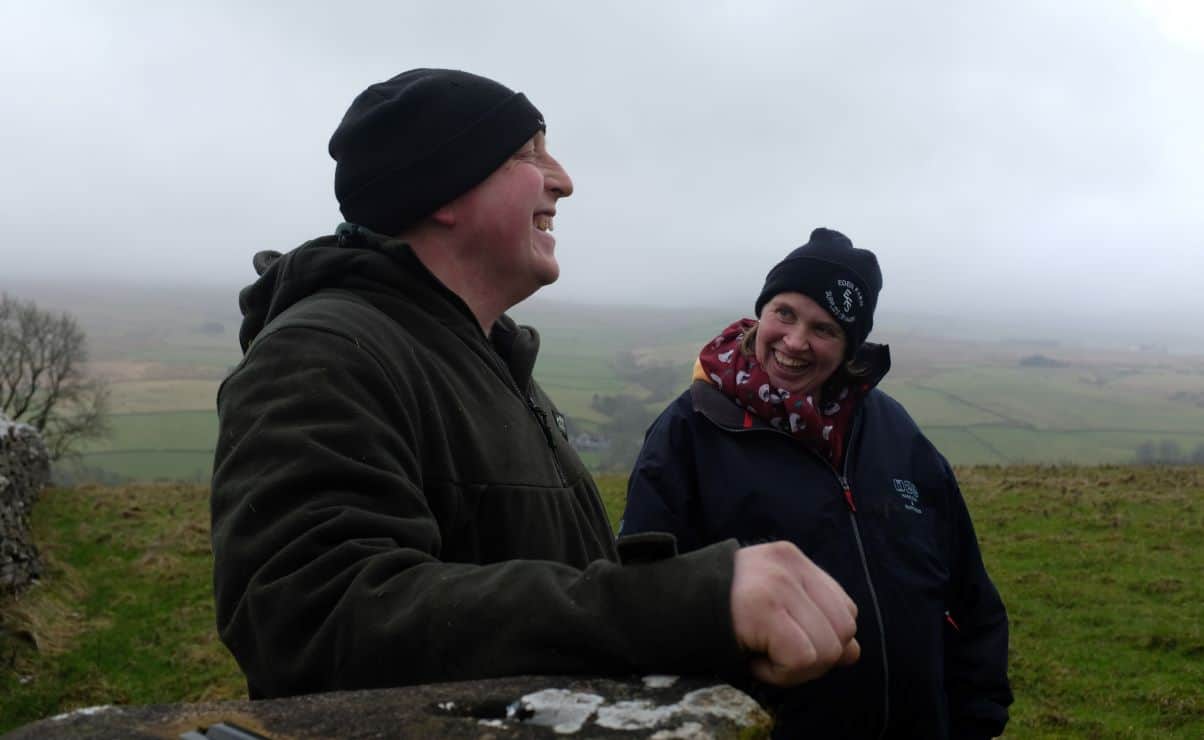 A Cumbrian farming couple produce carbon-neutral beef.
Jenny and Lenny Bowes, tenants of the 600-acre Ghyll Bank farm in Raisgill, near Orton, have halved sheep numbers to 500 breeding ewes while being on track to double the beef cattle herd at 150.
They stopped using fertilizer and purchased feed, adopted new grassland management using GPS technology, changed breeds of sheep to lamb later and outdoors, created three rich grasslands in flowers and herbs and have drawn up a plan for planting trees and hedges.
Other regular inputs such as bedding material, silage packaging and fence posts and wires have been reduced, with packaging and metals all being sent for recycling.
The changes mean the farming business is now 'net zero' according to Farm Carbon Toolkit, because it sequesters as much carbon from the atmosphere as it adds through the release of greenhouse gases.
Ghyll Bank Farm is one of 14 farms in the Yorkshire Dales National Park or Nidderdale Area of ​​Outstanding Natural Beauty (AONB) to have taken part in the Farm Carbon project, designed and funded by a partnership including the Yorkshire Dales National Park Authority , the AONB, Yorkshire Water and York & North Yorkshire LEP. A final report on the project was released today.
Jenny said: "The carbon audit has completely changed the way we do things. Everything we do, we think, 'Ooh how is this going to affect our carbon?'
"We've found a way to work with the environment, without letting the environment get in the way of your productivity.
"I think we had more productivity with our new system. We look at the profit margin. We have a better deal with wholesalers, with Lake District Farmers, than we would have had if we hadn't achieved carbon neutral beef certification. It's a big market.
Although tree planting is a big part of their plans – currently the farm only has 157 trees – it is the changes to grassland management that make the big difference in the carbon performance of the farm business. Herbal meadows, for example, have been added to pastures as part of the move away from artificial fertilizers.
Lenny added: "We have natural nitrogen fixers in the grasslands – clovers, clovers – that suck nitrogen out of the atmosphere. We have a varied root length, that's the thing. You have timothy and cocksfoot and you have plantain with a very deep taproot. This attracts the carbon, but it also absorbs the minerals, and you find that they start to outcompete the thistles. We have to prove that the grass is good.
"You have to pull your carbon below 30 centimeters because that's where it stays locked up. And you can only do that with longer roots. When they come to the carbon tests, they now dig down to When we first started talking about carbon a few years ago, we were only digging to a spade's depth and now we've realized we have to go deeper.
"The biggest thing I've noticed is the lameness in the sheep – it's gone. Simply because we are not as well supplied. And that was our biggest expense, the cost of medication and lost productivity. We used to put sheep in a building there. They would be fat in four weeks, but lame in three.
The latest technologies have reduced carbon dioxide emissions associated with fencing and also transporting fodder from the farmyard to the fields.
All of Bowes' native-bred Belted Galloway cattle have been fitted with solar-powered GPS trackers that emit an audible and electrical pulse if the cattle stray across a set of virtual boundaries drawn using a phone app. This allows efficient grazing of hilly areas that are difficult to fence off.
Lenny said: "Farmers have been paid to produce cheap food, but cheap food does not exist because it comes at the expense of something – and it can no longer come at the expense of the environment. Our goal is to find the maximum sustainable yield from the farm. He is trying to build a future-proof business, to make profits beyond payments. We shouldn't have to rely on handouts and handouts will go anyway.
Ian McPherson, Natural Environment Champion Member of the Yorkshire Dales National Park Authority, said: "Agriculture produces more than half of the greenhouse gases emitted in the National Park. Farmers and landowners therefore have a very important role to play in helping to tackle the climate and natural emergency. An agricultural landscape has always been central to the identity of the Yorkshire Dales National Park. What the Farm Carbon Project has clearly shown is that upland farms can be thriving businesses that are good for the environment.
Iain Mann, Director of Nidderdale AONB, said: "At Nidderdale AONB, we look forward to continuing our work supporting farmers to help tackle the climate and biodiversity crises, including through our Farming in Protected Landscape. These grants can help farmers and landowners achieve nature restoration and adapt land management practices to store carbon and become more resilient to climate change.