Crewe partners welcome exciting projects for Lyceum Square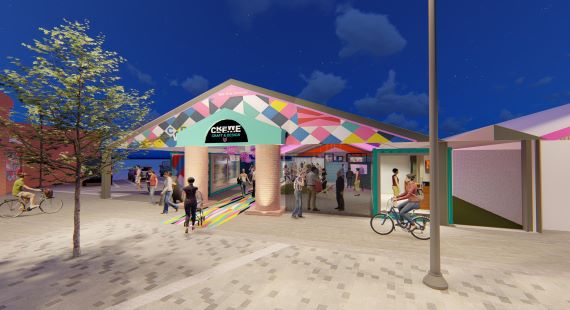 September 21, 2021
Issued on behalf of Crewe City Council
Partners working together in Crewe to advance major changes and investments in the city have welcomed plans to develop Lyceum Square into an exciting space for outdoor events and performances.
Crewe City Council received £ 750,000 of government 'fast-start funding' through the Towns Fund for a program to improve Lyceum Square and adjacent areas.
The vision for the "Ly2" program was developed by the Crewe Cultural Forum – a collaboration of over 100 Crewe residents, organizations and businesses – and a detailed planning request has now been submitted by the Cheshire East Council.
The plans would see the Lyceum Square center become a mixed-use space to host outdoor events, festivals, performances and activities throughout the year, which would include a new event stage with an integrated digital screen.
Meanwhile, part of the open-air market shed – which is currently not in use – would be turned into a "creative center".
Shipping containers and small cabins would provide a base for emerging small businesses and artists to collaborate and exhibit their work.
Colorful and multifunctional street furniture would also be installed and the main entrance doors to the square improved, for example by installing graphics on the ground and a mural.
The Ly2 project is carried out by the Cheshire East Council and overseen by the Crewe City Council. It is also supported by Crewe City Council.
Doug Kinsman, Chairman of Crewe City Council, said: "In July, Crewe was announced by the government as one of the last UK towns to have successfully concluded a Town Deal and to receive up to 22, £ 9million in funding.
"This is a major achievement for the city and the funding will have a significant impact on the future of Crewe and its communities – but there is still a long way to go before a final funding offer can be made by the government and the physical authorities. work on the projects can begin.
"However, with Ly2, we have the opportunity to start work and deliver a project much earlier, so that residents, businesses and visitors to our city can benefit from all that it will offer and enjoy a inspiring, engaging and inclusive space. "
Public art is expected to be a key part of the program and a series of public art dossiers have been developed by the Cheshire East Council in collaboration with Global Street Art.
The intention is to complete a number of art projects from local and community artists, including facade graphics for shipping containers, a mural for the Market mall and "art rugs".
Adam Knight, Director of Crewe High School Theater, City Council member and President of the Cultural Forum, said: "The Ly2 program is a shining example of what can be achieved through a collaborative approach, where positive change can be implemented through the passion and creativity of the community.
"The transformative potential of this investment will provide opportunities to showcase local and local talent as well as the best of traveling festivals, exhibitions and special events in a newly revitalized downtown. "
The Planning Request can be viewed through the Cheshire East Council Planning Portal by searching for Planning Request 21 / 4671N.
A walk-in public engagement event will take place from 10:00 a.m. to 4:00 p.m. on Friday, October 8 at Crewe Market Hall where Cheshire East Council officers will be available to answer any questions.
The deadline for submitting comments on the town planning file is Wednesday, October 20, 2021.
Notes to Editors:
Crewe City Council
Crewe City Council is made up of a team of representatives from the community, public, private and voluntary sectors.
In addition to overseeing the Towns Fund's offering, the board helps oversee the delivery of other projects already underway, including downtown regeneration and HS2 Central Station, to ensure that all are aligned with the same vision.
Crewe Cultural Forum
The Crewe Culture Forum is open to anyone, and anyone wishing to subscribe should email creweculturalforum@cheshireeastcouncil.gov.uk and request to join the mailing list.
Towns Fund – Town Deals
On July 27, 2019, the Prime Minister announced that the Towns Fund will support 101 initial places across England to develop Town Deal proposals, stimulate economic regeneration and generate long-term economic growth and productivity.
See more details on the announcement.
A Town Deal is an agreement in principle between the government, the Main Council and the Town Deal Board. It will define a vision and strategy for the city, and what each party is committed to doing to achieve that vision.
To see the 101 pitches be supported to develop Town Deals.
Each of the 101 cities selected to work on a Town Deal also received fast-start funding last year for investments in capital projects that would have an immediate impact and help places 'build back better' as a result of Covid-19.
Consult a list of accelerated funding by location.
North Power Plant
Some key facts from Northern Powerhouse:
The Northern Power Plant is a key aspect of this government's approach to closing the productivity gap in the North and ensuring a stronger and more sustainable economy for all parts of the UK.
The government has granted £ 3.4 billion in three rounds of growth deals through the Northern Power Plant.